Please observe 2 metre distancing at all times.
Card payments only at the tills. No cash payments
2 individuals per household only
Toilets will be closed to the general public
Our restaurants will remain closed for the time being
We will still be running our delivery service
WELCOME TO CAULDERS
GARDEN CENTRES
A new generation of garden centres.
At Caulders we have new ideas but old fashioned principles.
There are 7 Caulders Garden Centres in Central Scotland…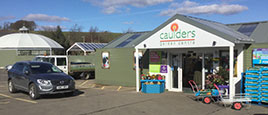 Each one has a beautifully stocked plant area, great gift shop and fabulous restaurant.
At Caulders we have everything your garden needs and much, much more…