Barry is one of Caulders Directors and is a brilliant expert on all things to do with plants 🪴
Every week Barry picks a plant that he wants to show off. Week commencing 11/09/23 is:
Euphorbia 'Miner Merlot'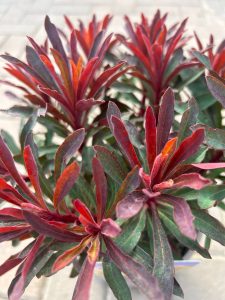 Euphorbia 'Miner Merlot' is stunning compact and reliable perennial.
The slender leaves are held in whirled rosettes on upright stems. They initially flush wine red in colour aging to olive green and darkening throughout winter.
In Spring it produces bright lime green flowers which contrast brilliantly with deep colour foliage.
Provides all year round interest either in a container or border 🍁